The CIO Checklist – Private LTE and 5G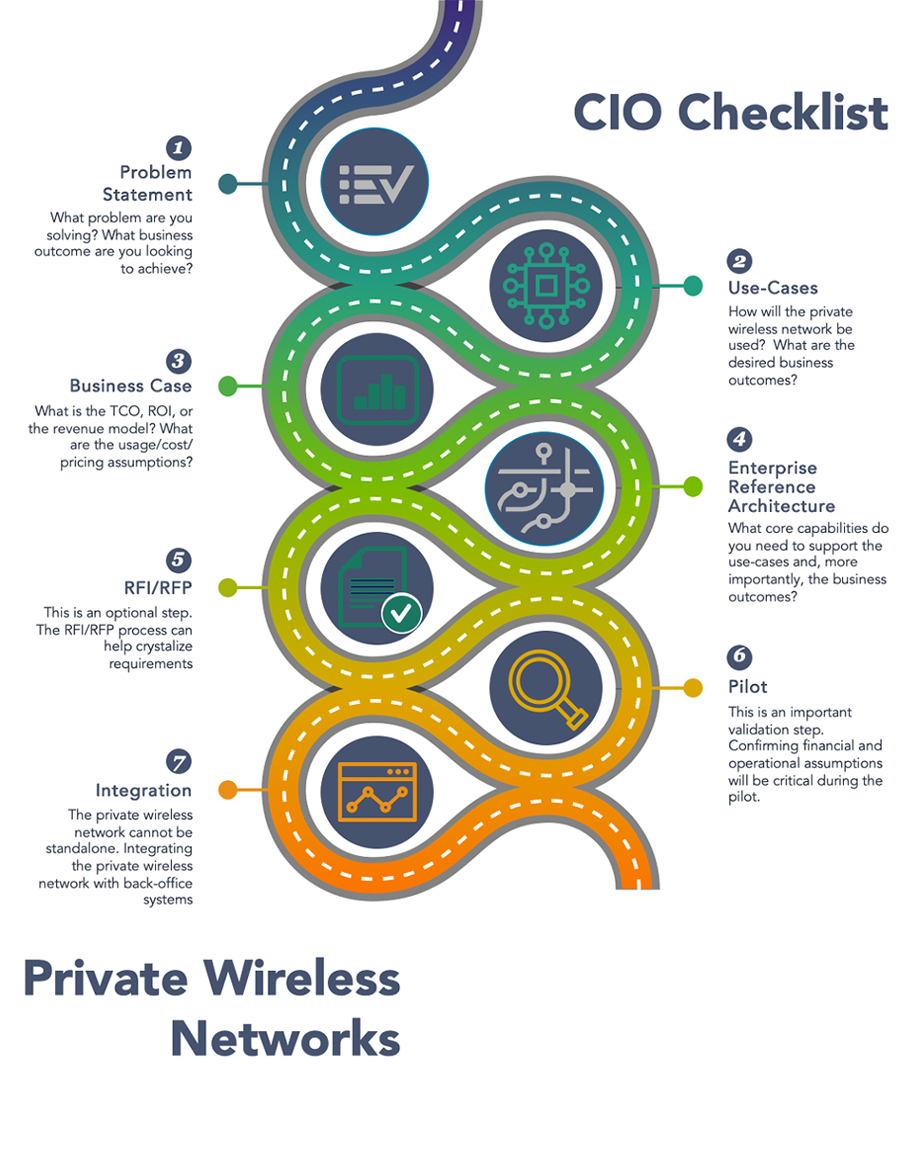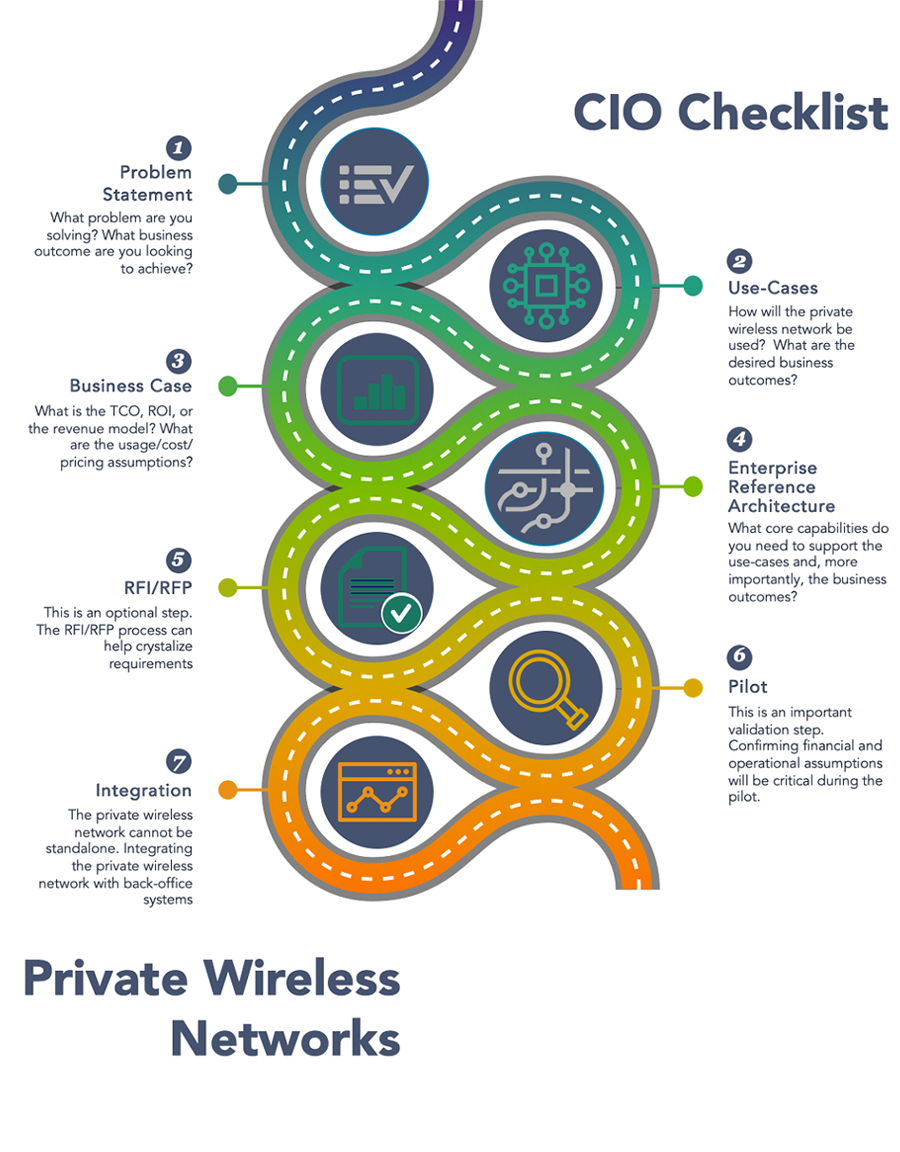 5G is the rage everywhere. Just as 4G spawned unicorns such as Uber, Facebook, Airbnb, and others, 5G will do the same. However, the BIG opportunity for 5G lies in the Enterprise sector. Specifically, Industry 4.0 is driving many industrial manufacturing companies to build private wireless networks. This movement is not limited to factories; warehouses, airports, shipyards, hospitals, and utilities are already exploring 'Private Networks' – either CBRS based Private LTE or Private 5G. Yet, the same enterprises are struggling to get started.

Generally, large IT consulting firms and system integrators (SI) such as Accenture, IBM, and Deloitte would step up to the plate and build an 'offering' that squarely targets all types of enterprises. Since enterprises do not have armies of engineers like carriers, they rely on these IT integrators to plan, design, build and operate these private wireless networks.

Unfortunately, over the last few years, these consulting firms have decimated their enterprise network practices (fondly called 'network solutions' or 'network practice') and refocused those resources on their cloud businesses. It's hard to argue with this new positioning, given all the demand around cloud transformation – especially in today's COVID world.

However, enterprise 5G (or P5G) transformation is different than the cloud, and these large SIs have missed the boat with the tremendous opportunity – of helping enterprises adopt private wireless networks. At the same time, carriers are simply not well-positioned to help either. Instead, they are focusing their sales capabilities on the small-medium size business segment or on their own public 5G network rollout. Moreover, large operators such as AT&T and Verizon, who have large enterprise businesses, are too busy supporting and managing SD-WAN and global IP networks for large customers. Take, for example, the latest win by Verizon to build and manage the next-generation network for Bayer. P5G has several use-cases applicable in life sciences, yet surprisingly, Verizon had nothing to announce here. As regulators around the world make spectrum available to enterprises, coupled with advancements in open software and cloud technologies, dependency on the carrier is slowly waning.

In the end, SIs and Carriers are mostly absent from the 5G enterprise value-chain. Meanwhile, CIOs are getting advice and assistance from network equipment providers like Nokia and Ericsson. However, that may not serve the CIO well either. These network vendors are essentially selling telco offerings, which are expensive and priced for network operators rather than as SaaS IT cloud-native providers. To fill the gap, new entrants and large software companies are rushing into this market. Microsoft has a golden opportunity to be a leading player in Enterprise P5G (this time they need not buy Nokia :-)) and partner with carriers and SIs to deliver a managed private wireless network offering that meets the needs of today's CIO.

In the meantime, Imagine Wireless has developed a checklist for the CIO to systematically and thoughtfully approach private wireless networks. This checklist assists CIOs in determining if a Private LTE/P5G is the right solution for their needs.


PROBLEM STATEMENT What problem are you solving? What business outcome are you looking to achieve? Defining a concise problem statement is a critical first step. It's not about connecting assets but about identifying the business challenge. This step is an integral part of getting 'buy-in' from other stakeholders. If you find yourself comparing private LTE/P5G to Wi-Fi 6. Stop! Private wireless networks might not be right for your company.

USE-CASES How will the private wireless network be used? There are several technical attributes that make private wireless networks valuable e.g. latency, security, coverage, etc. What are the desired business outcomes? Private wireless networks are a straight-forward DAS replacement. Off-loading data from a carrier plan is an excellent option to save on burgeoning cellular expenses. IoT, biometrics, video, drones, automated guided vehicles, etc. are potentially huge consumers of bandwidth, these are only the beginning. Documenting the use-case and the 'user journeys' is critical for an actionable business case. It's important to note that private wireless networks are inherently 'custom' and, more importantly, 'secure' networks.

BUSINESS CASE What is the TCO, ROI, or the revenue model, if you are looking to monetize the private wireless network. What are the usage/cost/pricing assumptions? The business case helps define the upfront CAPEX and recurring OPEX costs that help achieve business outcomes. Is the enhanced packet core (EPC) at the edge, on-premise, behind the firewall or, cloud-native? Understanding deployment options is an important factor going into the business case. For example, are you planning to use a managed services provider such as a new entrant

ClearSky Technologies

for PLTE/P5G? They provide end-to-end managed network services to enterprises. Are you planning to leverage cloud-based network management? Before any investment, the CFO organization will want to grasp the financial and operational implications.

ENTERPRISE REFERENCE ARCHITECTURE What core capabilities do you need to support the use-cases and, more importantly, the business outcomes? Is there a documented roadmap of functional and technical requirements? What are the operational requirements – organizational architecture, ongoing support headcount, etc.? What is your multi-access edge compute (MEC) approach? Has an RFI/RFP been issued to confirm pricing and vendor strategy? Can a cloud-based software from a company like

MATRIXX

be used to support back-office functions? Moreover, CIOs are looking for a single cockpit to control wireless access across their multiple locations –

Expeto

is a new company with a solution that meets this requirement. Lastly, but most importantly does the architecture help secure the new connected capabilities and meet the corporate security standards or, do they need to evolve?

RFI/RFP This is an optional step. However, it's worth noting that traditional telco vendors such as Nokia and Ericsson will sell telco-based vertically integrated systems versus cloud vendors like

Affirmed

which is now a part of Microsoft. The latter are more CIO savvy and understand the enterprise business. The RFI/RFP process can help crystalize requirements, especially around deployment issues such as cloud-based EPC vs. behind-the-firewall EPC, local-break out, device management, etc. Don't forget about the service-level-agreements (SLA), especially in the context of cloud-based service providers.

PILOT This is an important validation step. Confirming financial and operational assumptions will be critical during the pilot. Often clients take the easiest, least complex environment and use-case for the pilot. However, studies have shown that a blend of challenging use-cases and environments is a better proxy for future challenges. Better to find out early if PLTE or P5G will be able to scale, support security, and perform at the levels required by the business. Additionally, pilots should include all aspects of operations – at least the critical ones e.g., SIM management, security management, and network management. It would also be useful to test MEC capabilities to meet security, interoperability, and data management requirements.

INTEGRATION The private wireless network cannot be standalone (unless for security reasons as in utilities or critical infrastructure). Integrating the private wireless network with back-office systems such as ERP systems and other existing network management tools is going to be required. The integration activities will be an ongoing project, not a one-off exercise. If one is using a managed service provider such as

Boingo

,

ClearSky Technologies

to operate their PLTE/P5G network, they will likely figure out how data from their cloud integrates with the client's private/hybrid cloud. Is there a requirement for interconnect or roaming between the private and public network?

Syniverse

has a 'Global SIM' product that allows enterprise devices to securely roam globally. Lastly, MEC has a massive role to play in the deployment of a Private LTE/P5G network and will require complex integration.
About the author: Shahid Ahmed spent almost 20 years at Accenture running its Enterprise and Telco 'Network' practices. At Imagine Wireless, along with other former executives from IBM, HPE, Cisco, Bechtel, and others, they are re-building the next generation of enterprise network advisory.